Like most writers, I need to have some music blaring in the background whenever I'm writing. Music always gives me an extra dose of inspiration and helps me walk around a character's shoes a little better, especially when that character happens to be my complete opposite.
Alex dela Cruz, the protagonist of Prom Queen Perfect, is the girl at the top of the social ladder. She thinks nothing of dropping a ton of money on a Gucci dress. She can put you in your place without chipping her perfect manicure. In short, she's beautiful, smart, and honestly, kind of a bitch. I needed the right kind of songs to slip on her sky-high heels and strut my stuff in them without stumbling. Really get comfortable inside her headspace.
Here are a few songs that made the cut:
1. Blank Space by Taylor Swift
'Cause, darling, I'm a nightmare dressed like a daydream.
Oh, man. That line totally reminds me of Alex, and I love that about her. On the surface, she's the perfect society girl with her designer clothes and flawless makeup, but there's more underneath her pretty facade. So much more. A scheming mind. A manipulative plan or two.
2. Somebody to You by The Vamps ft. Demi Lovato
I used to wanna be
Living like there's only me
But now I spend my time
Thinking 'bout a way to get you off my mind
(Yeah you!)
I used to be so tough
Never really gave enough
And then you caught my eye
Giving me the feeling of a lightning strike
This playlist is starting to look like a list of songs you'd find inside a fifteen-year-old girl's phone circa 2015. I'm not ashamed of it, I swear. Well, only a little.
Somebody to You is basically about this person who's independent and doesn't have any plans of being in a relationship. Then, POOF! Love comes along and changes everything. If you'd like to know if that happens to any of the characters in Prom Queen Perfect, you can
add it on Goodreads
just in case. *wink. wink. nudge. nudge.*
3. Thinking Out Loud by Ed Sheeran
I'm thinking 'bout how people fall in love in mysterious ways
Maybe it's all part of a plan
Well, I'll just keep on making the same mistakes
Hoping that you'll understand
I didn't add this song to my Prom Queen Perfect playlist on purpose, but it was everywhere at the time I was writing the book. Playing on the jeepney on the way to work. Hummed by a co-worker while buying lunch at the cafeteria. Unsurprisingly, it seeped into my subconscious, and I couldn't resist adding it to my writing playlist.
Funny enough, there are certain lines in the song that perfectly fit Alex and Adam, the hot senior she might or might not be developing feelings for (it's all very complicated). She still has a lot of growing up to do with a ton of mistakes ahead of her. It's going to take a lot of patience--and exasperated sighs--on his end to make things work.
4. Devils Don't Fly by Natalia Kills
You know devils don't fly (fly, fly)
So don't expect me not to fall
Devils don't fly (fly, fly)
But God we almost had it all
But I got chains and you got wings
You know that life ain't fair sometimes
Devil's Don't Fly by Natalia Kills is the ultimate bad girl song. In my head. It speaks of wanting to be good but being unable to help being bad anyway. Totally reminded me of Alex. What I'm trying to say is, being good is a choice, and it isn't always the easiest one. I mean, do you think you can stop yourself from letting your snarky insults fly with this song playing in the background?
Yeah, I didn't think so, either.
5. Daddy's Girl by Natalia Kills
You messed up, yeah you messed up bad,
Rolled the dice on the life we had,
Played your tough guy game, you threw it all away...
(Money money)
We had diamonds and we had pearls,
Champagne life like a daddy's girl,
But the risks you take ain't worth the price you pay...
You can tell I was on a Natalia Kills kick while writing Prom Queen Perfect, can't you?
To be honest, this song doesn't have a significant connection to the plot. Its lyrics didn't lead me to an epiphany that helped me understand my characters--or life in general--more. The title reminded of Alex, even though she's really a Mommy's Girl, and I liked listening to the heartbreakingly desperate lyrics.
Sometimes, it's that simple, isn't it?
What about you? What songs do you associate with books you've read/written? I'd love to hear about them.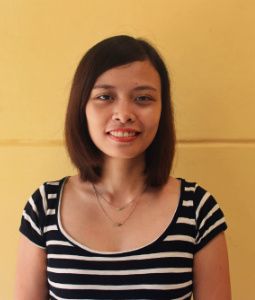 Clarisse David is a Young Adult and New Adult author from the land of epic heat waves a.k.a. the Philippines. She graduated with a Bachelor of Arts in Literature and cannot survive without Taylor Swift songs, red lipstick, and books. When not hanging out on Twitter, she can be found working on her latest writing project.

You can find her online at the following places:
Facebook
Pinterest
Twitter
Instagram
Email